You may have heard about Intranet. It can be your solution to build a more engaged digital workplace. In this article we will give you an in-depth look at how an intranet platform can help you to increase employee engagement.
What is Employee Engagement?
 Employee engagement is the connection between an employee and the organization he or she is working for. A positive employee experience has several, extensive advantages. Employees feel like they are important and valued members of an organization. Organizations often compete for the best and most relevant experience in this talent-hungry environment. An organization can genuinely stand out from its competitors by having a positive working culture. 
In a digital workplace changed by Covid-19 pandemic, more and more organizations are recognizing the power of the employee engagement to connect and communicate with a workforce. The idea of employee engagement is having a significant impact on how organizations think about their digital workplace. 
There are no easy short-cuts to solve this problem of employee engagement. Generally, organizations try to implement an employee management system but it will not bring immediate results. It takes time and effort. 
According to Harward Business Review,  
More than 70% of businesses consider employee engagement as a very important factor to achieve overall organizational success. 
25% of businesses are confident that their employees are highly engaged within the organization.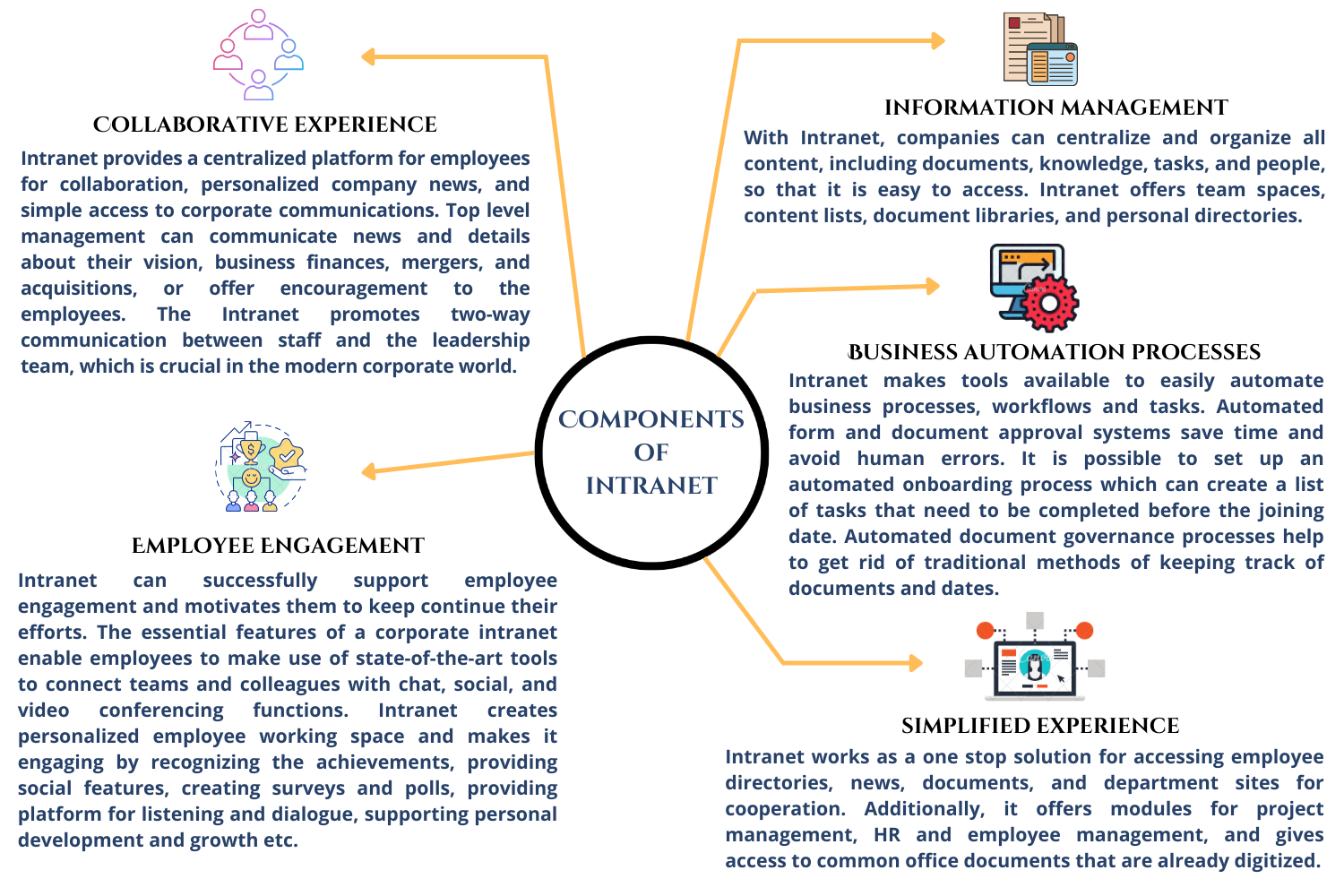 How Can Intranets Boost Employee Engagement?
It provides opportunities for employees to connect with each other 
According to Talent Tech Outlook 2022 study, remote working has now become the new normal with 82% of employees preferring to work from home. Working from home is becoming a common practice in many industries. Employees may feel less engaged and connected to their company while working from home. This can hurt the productivity and performance of the employees. Using an Intranet creates an environment which provides opportunities for employees to collaborate with each other. It enables employees to connect with their colleagues where they can exchange information through people directory, channels, telecommunication and projects. It improves collaboration and communication, boosts their morale and reinvents the way your organization and employees work. 
2. It motivates employees by recognizing their efforts. 
The essential components of intranet for corporations provide the tools to make it more engaging: 
– Create surveys and polls to gauge how the employees adopt the intranet which can guide you with requirements for future upgrades.  
– Recognize employees for their achievements, post updates about their birthdays and work anniversaries.  
– Provide personalized employee workspaces where users can access bookmarked sites, documents, conversations and people, upcoming tasks and reminders, calendars, etc.  
– Have social features like commenting and sharing an article or blog, or having a discussion on matters related to organization. 
3. It can be integrated with Microsoft 365.  
With Microsoft 365, creating a modern intranet can be simple and cost-effective. Microsoft 365 provides a wide range of tools and applications that can enhance your intranet and make it more functional. It provides multiple features along with being in the cloud, having a streamlined user experience across all tools, an excellent track record for up times, and offering multiple security layers. An intranet on Microsoft 365 provides a modern digital workplace solution that will meet the various needs of your employees and will stay for a very long time. 
4. It provides relevant information with customized search and targets. 
An Intranet on Microsoft 365 uses Microsoft graph API for its search functions. When a user conducts a search, the Microsoft graph can give relevant and personalized information because it tracks content interaction and creates links between individuals, content and activity.  Microsoft 365 users can get quick and relevant search results as they can organize content in libraries and folders, tag them with keywords and save their preferred search criteria. 
5. Its Mobility helps in bridging the location gap 
A modern digital workplace allows employees access to all collaborative tools needed to complete their work. Intranet is an integral part of the digital workplace as it helps to achieve the employees' expectations of seamless remote working, mobility and easy access to their tools and information. With an Intranet, they can manage and update their tasks, work on their documents, check the status of their projects from any location. 
If you want to increase employee engagement of your organization and would like more information about the company intranet, then Contact Us.